Applying for ClickSuper Single Touch Payroll

To register, click on the green APPLY NOW button in the top right hand corner of our website https://www.clicksuper.com.au

Clients need to select the appropriate service to apply for. This guide focuses on Single Touch Payroll only however if you intend to pay both superannuation and STP please choose the option in the middle. If you aren't sure which is the best option please contact us and we can help clarify.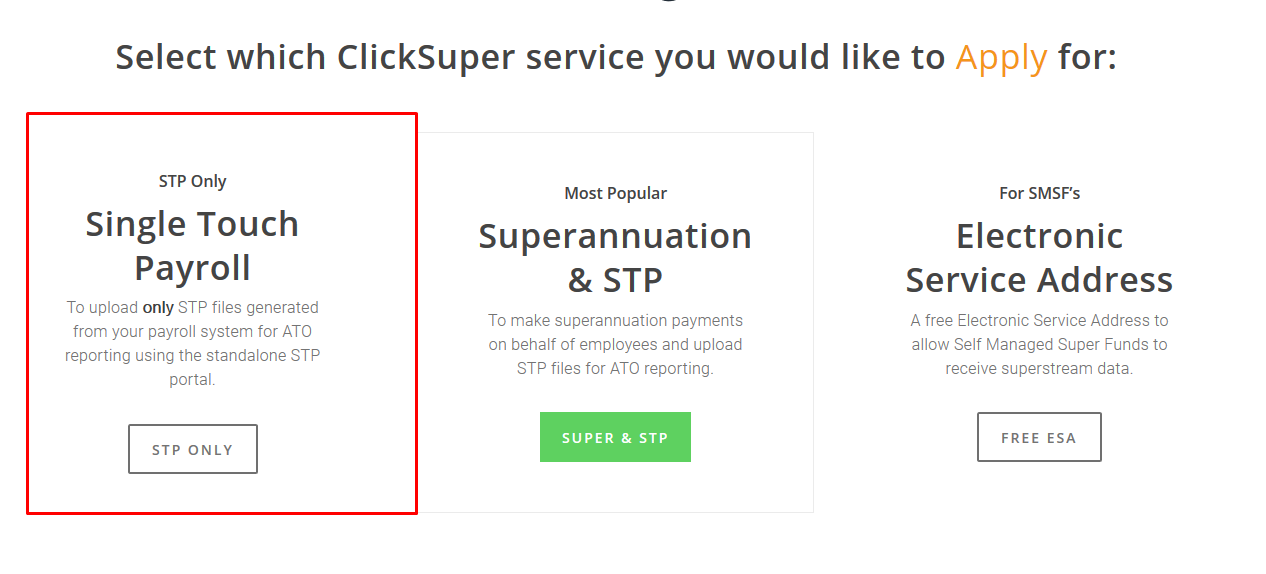 The first part of the ClickSuper registration will now be displayed. This section requires preliminary information about your organisation.
The first piece of required information is your organisation's ABN, ACN or WPN. Once entered as shown below, please click the Validate button – this simply validates the ABN provided with the ATO. Next please click the arrow for the dropdown menu for Company Name and choose the appropriate name of your organisation displayed. ABNs can have several business names under their entity name so please choose the name which you want your organisation known as.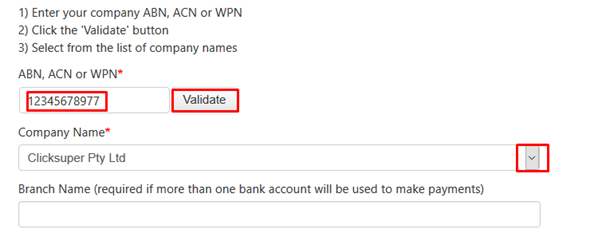 Please leave the Branch Name blank.
The next part of the registration process requires the STP details listed.

BMS is an acronym of Business Management Software which refers to your payroll provider.
If you are unsure of the information asked for please contact your payroll provider for confirmation; this information is available within your payroll software. Please do not guess the information required in this section; if entered incorrectly submissions will fail or could be uploaded incorrectly meaning your STP obligation will not be met. Clients are unable to upload a STP file without this information being first provided to ClickSuper.
Once entered, please click the word here to read our terms and conditions and tick the tickbox to acknowledge and confirm that they have been read.
The next part of the registration relates to administrative details. ClickSuper requires the bank account details for your organisation purely for invoicing purposes. The accounts payable email address is asked for so that we can email the invoice to the appropriate party.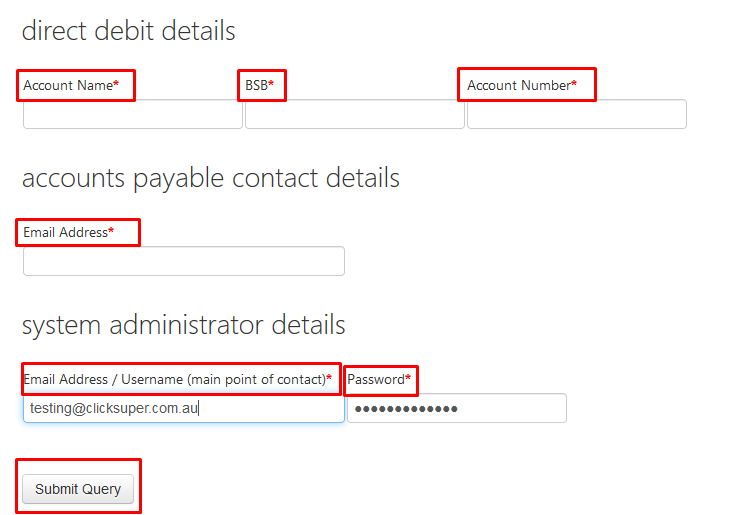 A System Administrator is the main contact for the account in which if needed, will be the first point of contact and receive notifications relating to your organisation. We recommend using a group email address if possible. The details entered will serve as the login for your organisation.
Once completed, please click the Submit Query button which will finalise the registration within ClickSuper. An email will be sent confirming registration to the email address provided for the system administrator.