For clients that manually upload or schedule their superannuation payments logging in to the ClickSuper site is essential however not all clients have access - some clients are managed by a bureau or service provider which manages accounts on behalf of their clients. If your account is managed by a third party please reach out to your relationship manager or preferred contact for assistance.
Clients can log in to ClickSuper directly by using the following link:
https://clickstream.p.vu/Authentication/Login?ReturnUrl=%2f
Many clients save this link in their browser so they can log in to ClickSuper directly when needed.
Alternatively, clients can go to our website ( https://clicksuper.com.au/ ) and click the LOGIN button in the top right hand corner of the page as shown below:

The ClickSuper log in page will now be displayed.
It contains links to help and updates that occur on the website - these are often updated monthly.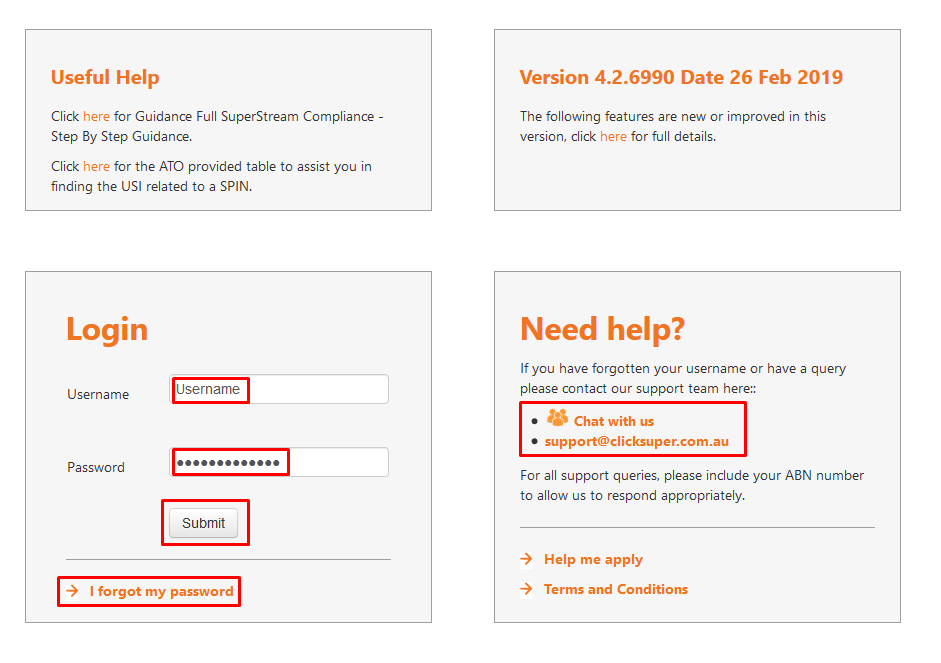 If you are unsure of your username please contact the support team either by chat or emailing us at support@clicksuper.com.au - direct links are under the Need help? heading. Please have the ABN of your organisation ready so we can assist you promptly.
If you are unsure of your password please click the I forgot my password link and follow the prompts. A guide to resetting a password is here: Forgotten Password
If the contact for your organisation has left and access needs to be provided to a new staff member please see the following link: Changing company contact
Need help with logging out? Please see the following guide: Logging out of ClickSuper.